Blood Pressure Calculator
Introduction
A blood pressure test is a simple way of checking if your blood pressure is too high or too low.
Blood pressure is the term used to describe the strength with which your blood pushes on the sides of your arteries as it's pumped around your body.
Understanding your blood pressure reading
Blood pressure is measured in millimetres of mercury (mmHg) and is given as two figures:
systolic pressure – the pressure when your heart pushes blood out
diastolic pressure – the pressure when your heart rests between beats
For example, if your blood pressure is "140 over 90" or 140/90mmHg, it means you have a systolic pressure of 140mmHg and a diastolic pressure of 90mmHg.
Blood Pressure Chart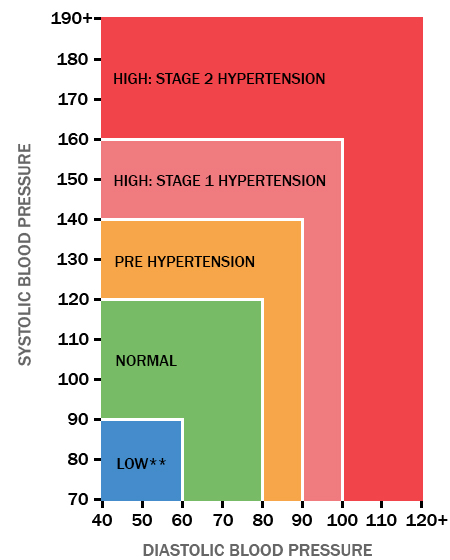 High blood pressure (hypertension) can put a strain on your arteries and organs, which can increase your risk of developing serious problems such as heart attacks and strokes.
Low blood pressure (hypotension) isn't usually as serious, although it can cause dizziness and fainting in some people.
A blood pressure test is the only way to find out if your blood pressure is too high or too low, because most people won't have any obvious symptoms. Having a test is easy and could save your life.
Recording and Submitting Your Blood Pressure
The form below allows you to securely input your details and BP readings. Please complete all sections and where possible, provide 7 days worth of morning and evening BP readings.
SUBMIT YOUR BLOOD PRESSURE READINGS
When should I get my blood pressure tested?
You can ask for a blood pressure test if you're worried about your blood pressure at any point.
You can get your blood pressure tested at a number of places, including:
at your local GP surgery
at some pharmacies
in some workplaces
at home (see home blood pressure testing below)
at an NHS Health Check appointment offered to adults in England aged 40-74
It's recommended that all adults over 40 years of age have their blood pressure tested at least every five years so any potential problems can be detected early.
If you've already been diagnosed with high or low blood pressure, or you're at a particularly high risk of these problems, you may need to have more frequent tests to monitor your blood pressure.
Home blood pressure monitoring
Blood pressure tests can also be carried out at home using your own digital blood pressure monitor.
This can give a better reflection of your blood pressure, as being tested in somewhere like a GP surgery can make you feel anxious and can affect the result. It can also allow you to monitor your condition more easily in the long term.
You can buy a variety of low-cost monitors so you can test your blood pressure at home or while you're out and about.
It's important to make sure you use equipment that has been properly tested. The British Hypertension Society (BHS) has information about validated blood pressure monitors that are available to buy.
Controlling your blood pressure
If your blood pressure is found to be too high or too low, your GP or the healthcare professional performing the test can advise you about ways to control it.
This may involve:
In some cases, you may be referred to a doctor such as a cardiologist (heart specialist) to discuss treatment options.
Read more about treating high blood pressure and treating low blood pressure.
Page last updated: 9/6/21 15:25