Group Consultations
Patient Feedback
"Initially sceptical of this type of consultation but found it very informative and recieved a detailed consultation which I was worried about not recieving"


 
What is the purpose of group consultations?
Group consultations are a way for you to join people with similar health issues and consult with your facilitator and nurse for longer. People who have participated in face to face group clinics say that they enjoy hearing from other people in a similar situation and having longer to talk about their worries. Patients have said they enjoy sharing their concerns, what has worked for them and what doesn't but also hearing from other people's success; feeling a sense of belonging and that they are no longer alone in trying to manage their condition such as asthma, diabetes or COPD.
What happens in a group clinic?
A typical clinic will last around 60 minutes. You will be greated by a trained facilitator who will support the session.
You will be able to review and discuss the results you have agreed to share such as blood pressure, peak flow etc and come up with questions for your clinician who will join the group and have one to one consultations with each member. During this time people often join in and share ideas and problem-solve together.
The facilitator will wrap at around an hour and you might want to set goals for yourself. Following the group you may want to make a one to one appointment to go through anything you didn't want to share in the group situation or your clinician may want to arrange follow-up tests or referrals. 
Feedback from Patients
At the end of every session, we request feedback from the group so we can constantly improve our group sessions. 
This is just some of the lovely feedback we have recieved.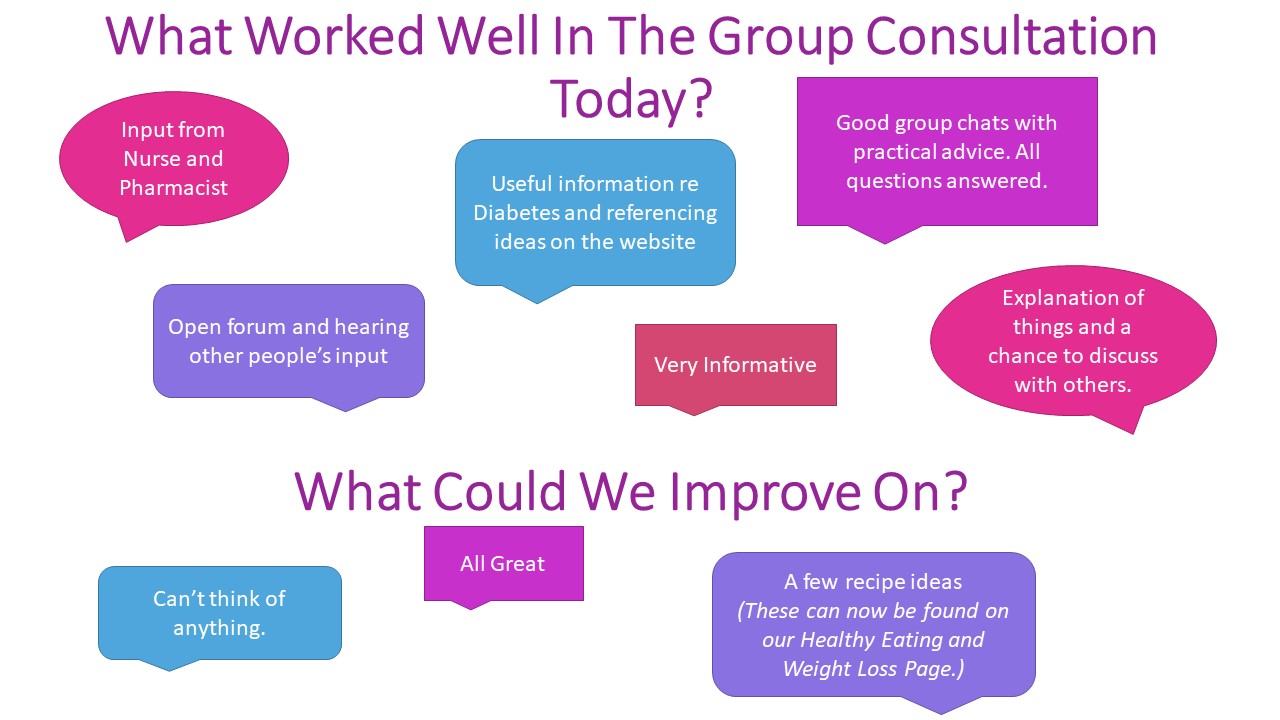 Last Updated: 17/02/2022 13.06