COPD Information
Our goal is to help you to manage your condition well and to minimise the impact of the condition as far as possible. 
The best way to help you is to review your COPD with you at least once a year and to plan your care with you, including what to do when the condition flares up.
We can now offer you free access to myCOPD App, with online education and pulmonary rehab. Please click here to find out more information and contact the Surgery for secure set up.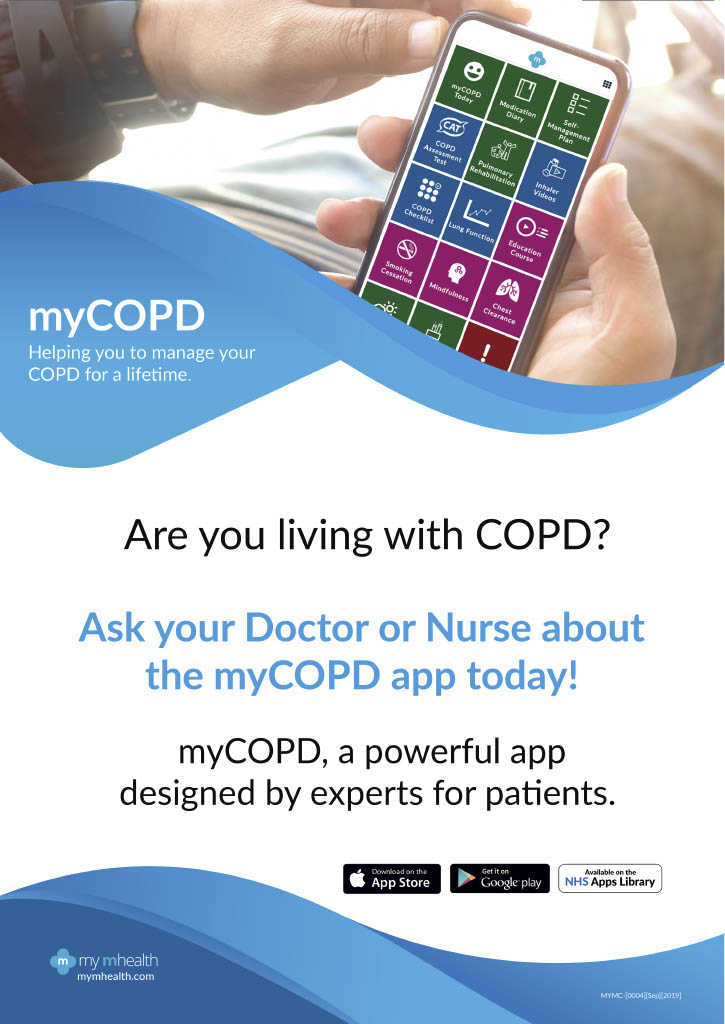 What is COPD?
Chronic obstructive pulmonary disease, or COPD, describes a group of lung conditions that make it difficult to empty air out of the lungs because the airways have become narrowed. See the following links for further information:
COPD usually develops because of long-term damage to your lungs from breathing in a harmful substance, usually cigarette smoke, as well as smoke from other sources and air pollution. Jobs where people are exposed to dust, fumes and chemicals can also contribute to developing COPD. Some people have a genetic disposition to developing COPD earlier in adult life.
How to look after yourself
keeping active and taking part in pulmonary rehabilitation classes
learning how to control your breathing
eating well and keeping a healthy weight
taking care of your emotional wellbeing
use your inhalers as agreed with your nurse or GP, make sure you have the right inhalers, that you can use them effectively and that you don't run out
if you smoke – get help to stop smoking https://midsussex.westsussexwellbeing.org.uk/topics/smoking/services-for-west-sussex
have your care plan avaliable for when your condition flares up.
Organising your care and care plan
Step 1 - Each year we will send you a simple questionnaire to complete by text or email. Alternatively you can submit your answers via the MyCOPD app
Step 2 -
 When you've responded to the questionnaire, take a careful look at your existing COPD care plan –
Moatfield Surgery self managment plan
 and consider any areas of concern.
We will organise a group video-consultation appointment date at this time.
Step 3 - We will review your results and and the frequency of any exacerbations
Step 4 - Your group video-consultation. You will be able to discuss your plan and any questions you may have.  We can then agree and arrange any follow-up needed. Links to follow shortly.
Step 5 - Please keep your care plan up to date to stay well and in control of your own health and wellbeing. You may have reviews and changes to your plan through the year.

If you need to use your rescue pack we will offer a telephone review to avoid further problems
British Lung Foundation
Care Plan
Time To Talk Health
Local Groups
Medication Advice and Inhaler Technique
Breathlessness
Healthy Living
General
Pulmonary rehabilitation
We know that people who engage in pulmonary rehabilitation classes generally do better than people who don't. We want to continue to support you as much as we can and would like to set you up with access to myCOPD.  myCOPD is a powerful self-management tool, that can be accessed online and can: 
• Help you to improve your inhaler technique
• Reduce your COPD symptoms and risk of are-ups
• Provide education on how to manage your COPD
It is easy to use and can be accessed on almost any device that connects to the internet, including smart-phones, laptops, tablets, and even smart TVs. 
https://mymhealth.com/mycopd
We strongly encourage you to take full advantage of this opportunity to access MyCOPD and use this tool to take control and improve your self-management of your COPD. 
If you would like access please reply to 
hsccg.moatfield.surgery@nhs.net
for the attention of Laura Ireland with your email address, we will then register you on the App and you will receive an email from my mhealth with instructions on how to set- up your account. 
Revised 14/10/21